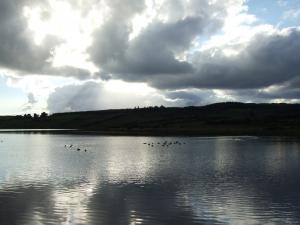 From 2008-2010 Annette and I spent our holidays in Ireland, we did some tours through the country and were very impressed. Songs, history, tradition and the modern Ireland are worth to explore this beautiful country.
But be careful: They really have great story-tellers, do not believe every astonishing thing they tell you.
Most time it's a lovely weather there (it rains only six or seven times a day) and the people are very hospitable.
On the next sites you can see a collection of pics of our tours through Ireland:

We had each year a stay near Ballybofey (County Donegal) and did some trails on horse through the lovely countryside there. Maybe you are interested too, here ist the adress:

Helena and Joe McElhill
Ardmourne House
Five-Counties-Holidays
Tel - +442881670291
"Ardmourne House is a country residence 6 miles from Castlederg and 10 miles from Ballybofey. Horse riding holidays arranged with the adult beginner catered for as well as the experienced rider. The accommodation consists of Guest House with the language classroom, stable yard and equestrian shop. There are 2 riding arenas adjacent to the Stables, outdoor and indoor. The Barn Equestrian Shop, located beside Ardmourne Stables is stockist of all leading brands. Here can you buy everything for comfortable horse riding."