Including lyrics of some singer/songwriters, some songbooks and informations about "Country & Western"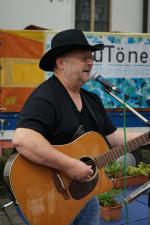 We are crying for a vision
that all living things can share
And those who care
are with us everywhere. - (Kate Wolf)

Welcome!

Here are some of the songs I wrote and some we are performing as the duet "the hermannettes".

We like country, western, folk, ballads and chansons.

Favorites of myself are the unforgotten Kate Wolf, and the wonderful songs of Dave Carter too. In Germany I like songs from Gerhard Gundermann, FJ Degenhardt and Tamara Danz.

All these singer/songwriters died too soon. But in my heart they will live forever, and they will live when we sing some of the songs, both in english and german lyrics.

I began also to transform german songs in english. One example is the song "A new day", originally a german song "Ein neuer Tag" but the basic is an irish novel. And thats the circle I like :-)

I try to understand the great and creative scene from western/country music, bluegrass and singer/songwriters up from USA and Canada, back to irish/scottish/welsh sources and down to Australia.
And I am happy to have some really engaged people here in South Germany who make concerts possible with great singer /songwriters like Hugh and Katy Moffatt, Kimmie Rhodes, Laurie Lewis, James Talley and so on....

One association is the "Western & Country friends" in Koetz.

http://www.cwf-koetz.de

Thank you for that.

Hermanitou

P.S. We (the "hermannettes") are now on Youtube too, please check: Videos


©Copyright
Alle auf dieser webseite eingesetzten Grafiken, Texte und Scripte sind, wenn nicht anders erwähnt, kopiergeschützt. Das Einbinden auf anderen Seiten ist nur mit ausdrücklicher Genehmigung des Seiteninhabers gestattet. Dies gilt für alle Seiten von www.hermann-sr.de.